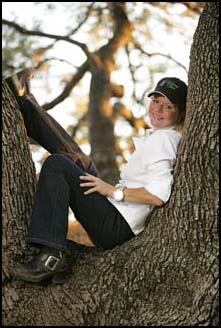 Folks usually come to Utopia, Texas for the rivers and the parks and the wildlife. To fill their lungs from the big sky and remember who they were before city-life wore them down.
Then a few years ago Chef Laurel Waters, a graduate of Le Cordon Bleu, opened The Laurel Tree, and Utopia became a foodie destination too. Now, a stone entrance off of FM 187 in the western Hill Country welcomes travelers to culinary magic.
Housed in a limestone building inspired by Provence, The Laurel Tree opens to diners on Saturday for lunch and dinner. Ms.Waters will cater your wedding or birthday party at The Laurel Tree on other days but restaurant dining is Saturday only.
Out back is the tree for which Laurel named the restaurant, a multicentury live oak which shades an outdoor dining area.
See the chandeliers

hanging from the branches

?
The restaurant features seasonal cuisine made with fresh herbs and vegetables from the adjoining "potager".
The meals are served Prix Fixe and there is only one seating. It was lovely to know our table by the candlelit fireplace was ours for the evening. I wanted to savor each course. There was a lot to enjoy--an amuse bouche, appetizer, soup, salad, choice of main course and a dessert.
Guests bring their own wine or other alcoholic beverage, if desired.
I won't make you drool with the entire menu the night we were there, but the main course we chose was Roasted quail with a sweet 1015 onion glaze, stuffed with sausage, cranberries and leeks. I can't resist trying things I'm not likely to make. It was served with pesto scalloped potatoes, baby carrots, squash and broccolini.
And garnished with rosemary in bloom.
We brought a bottle of Pine Ridge Cabernet Sauvignon Rutherford 2003, because the bottle was calling me from our wine cooler. Ripe cherry and blackberry with a bit of mocha, buttressed by tobacco, black pepper and toast. Would have been hard to find a better wine match that night.
Denny said he thought it was the best meal he'd ever eaten.
It was the best anniversary celebration too, but then, I think every anniversary is the best one.
Copyright 2009-2013 Kathleen Scott, for Hill Country Mysteries. Unauthorized reproduction is prohibited.